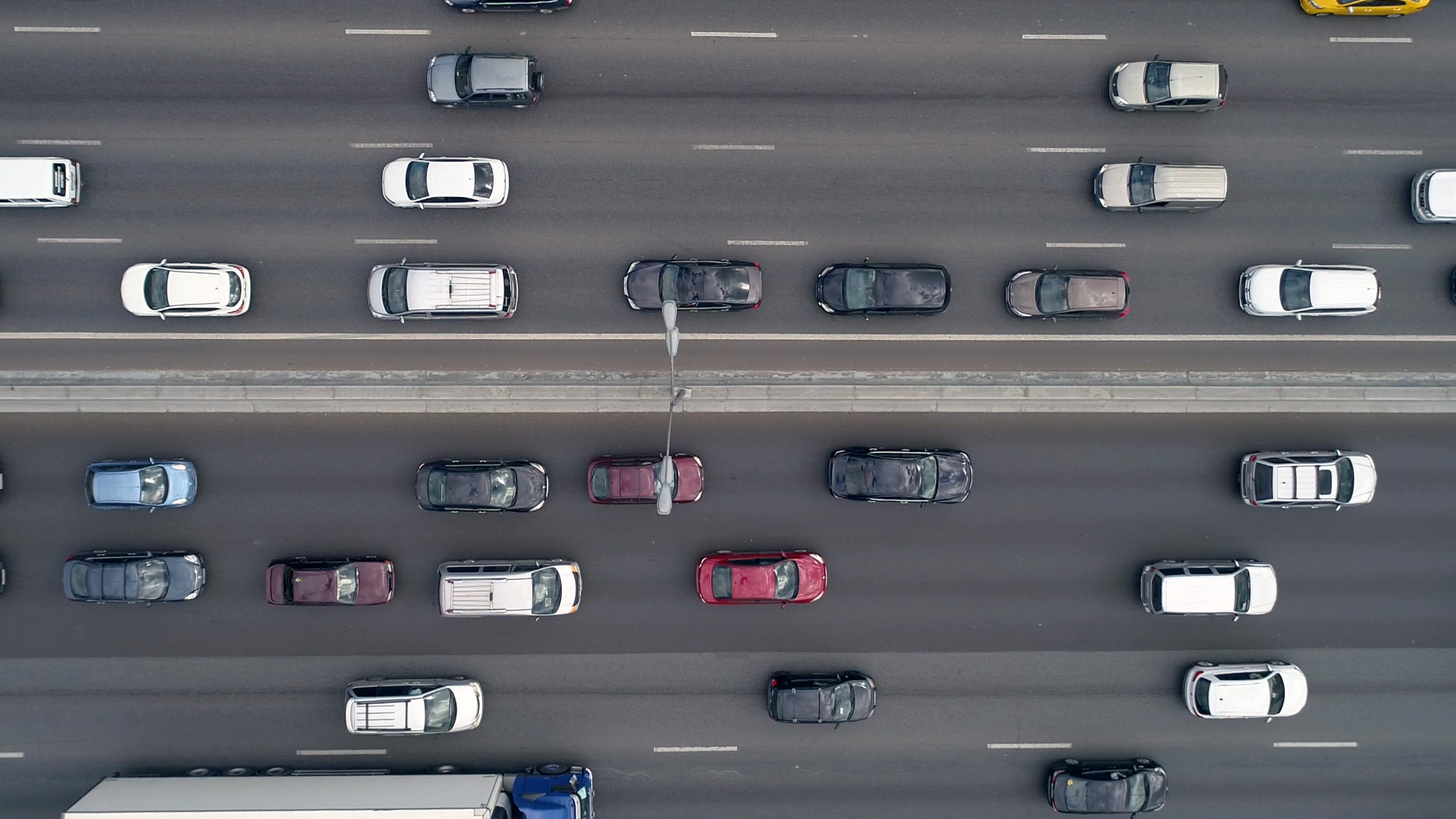 Environment & Climate
Time to change direction
Mobility in the 21st century requires innovation. Discover cities and technologies that demonstrate how it's possible to overcome the challenge of the century.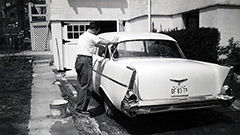 Cars were once the ultimate representation of progress and independence.
Smog, congestion, lack of parking – cities around the world are suffering more every day from the swarms of vehicles on their streets. The car, once celebrated as a symbol of freedom, is now increasingly subject to limitations. On days with high air pollution, cities such as Paris, Beijing or São Paulo restrict access to cars by alternating between license plates ending with either odd or even numbers. In Shanghai, a license plate now costs as much as a small car. And the logistics company UPS has invested millions in a proprietary GPS system that ensures its vehicles almost entirely avoid left turns in order to save time and fuel. There are numerous ideas because one thing is clear: Mobility in the future will have to be very different, especially in the world's metropolises.

For many generations, the car was the ultimate status symbol. But in numerous countries, "peak car" is already over."
Today's traffic systems are no longer sufficient to handle the masses of people surging into megacities. In the United States, United Kingdom, France and Germany alone, gridlock costs the economies around €180 billion ($200 billion) and each person about 111 hours of their time every year, according to a study conducted by the Centre for Economics and Business Research (CEBR) on behalf of the traffic information specialist INRIX. And by the year 2030, the economic costs will rise by nearly 50% due to growing traffic volumes.
Mobility rethink required for energy shift
People are unlikely to abandon cars completely, but they will play a different role in our lives. "For many generations, the car was the ultimate status symbol," says Peter Newman, PhD and Professor of Sustainability at Curtin University in Australia and a former member of the Intergovernmental Panel on Climate Change (IPCC). "But in numerous countries, peak car is already over." Although the term 'peak car' is not as well known as 'peak oil' (the time when maximum global oil production is reached), the reign of the automobile is approaching its end, according to Newman. Whether in Perth, New York or Berlin, young people in a growing number of Western cities are losing interest in owning a car. The number of cars sold to this target group is sinking even though economies are expanding.
of all households in major German cities didn't own a car in 2013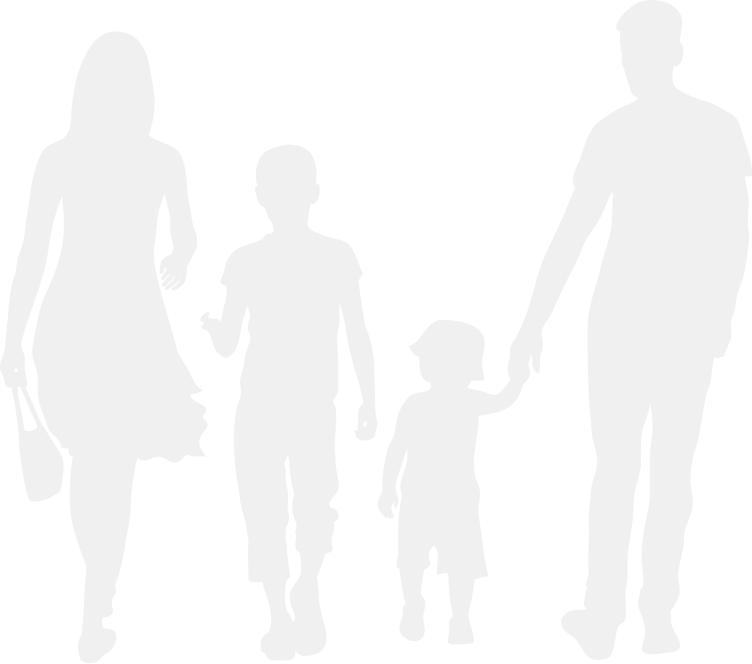 Although this phenomenon is only being seen in metropolitan areas of a few industrialized countries, it represents a small revolution. For example, in 2013 around 30% of households in major German cities owned neither a car nor a motorcycle, according to the Federal Statistical Office. Within ten years, this figure has risen considerably from the level of 22% recorded in 2003.
This social transformation is the reason Newman has hope that the IPCC's famous two-degree target may yet be achievable. He now believes in green cities, which will not be dominated by cars but instead will depend on the intelligent linking of diverse modes of transport, including cars, trains, buses, bicycles and motorcycles. The future of transportation will be intermodal. The key thing will be the most efficient way of getting from point A to point B, not the form of transportation.
Newman is particularly interested in the changes taking place in the megacities of China and the United States, the two largest emitters of greenhouse gases. And there is a lot happening. In the 1990s Shanghai was still following the American model: building highways, replacing bicycles with cars – and heading towards gridlock. However, since the start of the new millennium, this metropolis of 24 million residents has been trying to turn the tide by investing in subways and elevated trains. Within ten years Shanghai built the largest metro system in the world, with more than 500 kilometers of lines carrying eight million people every day. Across China, a total of 86 new subway lines have been built. Even in the United States, which has the reputation of having the worst public transportation in the industrialized world, more and more cities are following the example of Portland. That city has not built any new freeways in the past 30 years and has instead invested in a revival of its streetcar system. In 2013, the U.S. news agency AP counted 30 streetcar projects throughout the country – and noted that today's tracks are being laid exactly along the routes where they were torn up in the 1950s and 1960s.
Car sharing is booming: Between 2014 and 2018 the market will grow by around 40% worldwide, forecast analysts from Frost & Sullivan. Alone the German firm car2go, which is competing with the U.S. company Zipcar to become the world market leader, had a million users in eight countries at the end of 2014. Simultaneously, a growing number of companies are giving private individuals the opportunity to share their own cars and make some money. After launching two years ago, the Hong Kong-based peer-to-peer platform Carshare.hk now has more than 2,000 cars and 20,000 members registered. These ingenious start-ups are tapping an enormous growth market: According to the consultancy Roland Berger, half of all car owners in the industrialized world can imagine sharing their vehicles. This is good news for those looking for parking as well as for the environment because each shared car can replace up to ten private cars, according to a study conducted in Bremen, Germany, a pioneering city for car sharing.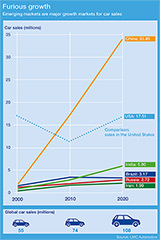 Airborne alternative
Latin America, on the other hand, is discovering the allure of cable cars. La Paz, Bolivia's high-altitude metropolis, is currently building the world's largest urban cable car network. Nine lines stretching 30 kilometers could account for around 15% of public transportation once they are completed. Commuters who until recently spent an hour traveling up or down curvy mountainside roads in cars or buses can now reach the neighboring city of El Alto in just 17 minutes. The electric cable car systems are so inexpensive to operate and low in maintenance that they are even affordable for cash-strapped governments.
Meanwhile in Europe, urban buses – previously a source of exhaust emissions – are going electric. The cities of Mannheim, Germany, and Milton Keynes, England, are testing the first e-buses that wirelessly selfcharge at bus stops. On a small scale, the principle is familiar from electric toothbrushes. Now the system has to be scaled up as efficiently as possible and installed under the street. If this is successful, researchers hope the next step may be buses that can be recharged in dedicated charging lanes as they travel along their routes.
The expansion and electrification of public transit vehicles is only the first step; in the long run, significantly more vehicles will have to be powered by electricity, Newman believes. In the United States alone, around 20 million barrels of oil are consumed every day, of which 72% are used in the transportation sector, according to the U.S. Energy Information Administration (EIA). Globally, transportation accounts for 51% of the more than 90 million barrels of oil consumed daily. In a "business as usual" scenario, the concentration of CO2 will increase so much by the end of this century that temperatures are expected to rise by 3.7 to 4.8 degrees Celsius, according to reports by the U.N.'s IPCC.
But, for now, electromobility and hybrid vehicles are still just niche markets. The first step in reducing emissions, a process that has been underway for years, is to increase the efficiency of combustion engines and their catalyst technologies. After all, gasoline-powered vehicles are not going to be phased out any time soon. The latest Shell study forecasts that in Germany cars with combustion engines will continue to dominate the market over the next 25 years. Vehicles with hybrid engines are predicted to have a 27% share of the market in 2040. The authors believe cars with electric or fuel cell motors will account for around 5% of vehicles.
The reasons why electric cars have not yet gained mass-market appeal are their limited range and the lack of charging infrastructure, coupled with the fact that they still cost about one-third more than comparable cars with combustion engines, says Dr. Axel Thielmann, Deputy Head of the Competence Center Emerging Technologies at the Fraunhofer Institute for Systems and Innovation Research (ISI).
of the more than 90 million barrels of oil consumed daily are consumed for transportation
The search for tomorrow's batteries
Researchers are working very hard on the next big breakthrough that will make rechargeable batteries cheaper and more durable, with higher energy density and thus less weight. But the problem is that achieving one desired property often comes at the expense of another: A long range and large battery capacity mean higher costs and weight, while low cost and weight mean limited battery capacity. High energy NCM, an optimized special mixture of nickel, cobalt and manganese, is a promising material that may hold the solution. This cathode material, which is also licensed to BASF, should take lithium-ion batteries to a new level of performance. In a survey conducted by Fraunhofer ISI among 91 international battery experts, respondents said NCM technology had an excellent chance of becoming the "third generation" of lithium-ion batteries that would make e-cars more affordable and give them longer ranges in the coming years. But this will not be the end of the story: Over the next 10 to 20 years, revolutionary technologies such as lithium-sulfur could become ready for the market.
But batteries are not the only things that need to become lighter and more powerful: Vehicles themselves have to shed some weight because more power is required to propel every extra kilogram.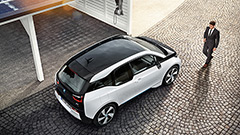 The BMW i3
The BMW i3, a compact city car, is the first electric automobile from a German premium manufacturer to use carbon fibers rather than metal in the passenger compartment. Previously, this difficult-to-manufacture material was mainly used in custom-made Formula 1 racing cars and aerospace engineering. "The novelty for mass-production vehicles is the combination of carbon fibers with a polyurethane matrix," says Dr. Guiscard Glück, Vice President New Markets and Products in BASF's Performance Materials division. "The self-supporting rear seat shell is made from the BASF foam Elastolit® and meets high safety standards even though it has a wall thickness of just 1.4 millimeters. In addition, more than two dozen components made of engineering plastics are used to strengthen the vehicle's carbon body, thus considerably reducing the weight of this sporty e-car." The BMW i3 weighs 1,195 kilograms, roughly the same as its fellow BMW sub-brand, the gasoline-powered MINI. But the MINI is shorter and does not carry a 230 kilogram lithium-ion battery on board.
The love affair with four-wheeled vehicles – whether powered by electricity or gasoline – also brings other challenges for the world's big cities. If half a city's residents travel by car and the other half take public transportation, the car passengers take up more than 90% of the driving surface, which leads to congestion.
Most automobiles today are fitted with catalytic converters that convert exhaust emissions into less harmful gases, making a significant contribution toward improved air quality. BASF's Prem-Air® NXT is a catalytic radiator coating technology that converts ground level ozone – the main component of smog – into oxygen. As air flows over a vehicle's radiator, it catalyzes this reaction. Compared to previous technologies PremAir® NXT provides higher ozone conversion performance over the lifetime of a vehicle. It also allows car manufacturers to meet strict emission requirements.
Find out more: PremAir® NXT Catalysts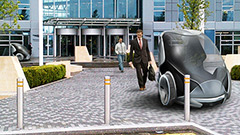 Self-driving robotaxis can drop passengers off at their destination and then collect the next ones, thus eliminating the time-consuming search for parking.
Robotaxis to fight traffic jams
If cars were self-driving, however, the roads could be as empty as they were in the 19th century, believes Dr. Raúl Rojas, Professor of Artificial Intelligence at the Free University of Berlin. With intelligent route planning, these tireless chauffeurs could easily transport four or more people at once, turning the car into a share taxi. And this will pay off: An analysis of 150 million taxi trips through Manhattan by the Massachusetts Institute of Technology (MIT) found that the number of trips could have been reduced by 40% if each taxi had taken another passenger. Google co-founder Sergey Brin has often said in interviews that he believes individual car ownership will decline. The large numbers of private cars are putting an enormous strain on communities. At peak times, one third of driving in a city can be due to people looking for parking, Brin says, which wouldn't be necessary if self-driving cars could simply drop off passengers at their destination and then pick up the next ones. Earlier this year, an Audi A7 named Jack showed just how close the automotive companies are getting to their vision of a driverless car. Outfitted with radar sensors, laser scanners and 3D cameras for a 360-degree panorama view, Jack was able to drive on autopilot the approximately 900 kilometers from Silicon Valley to Las Vegas.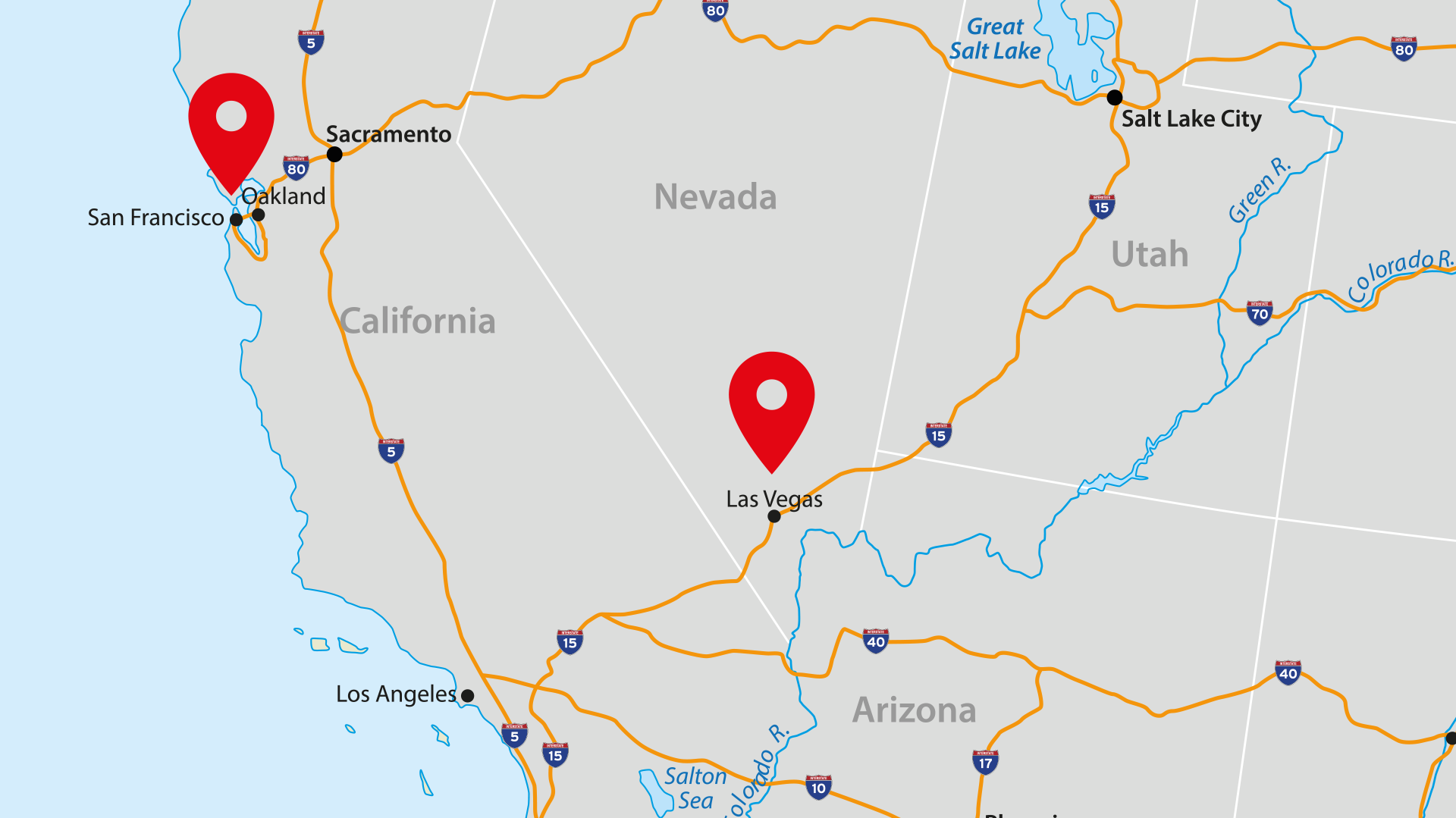 Reaching speeds of up to 110 kilometers per hour, the research vehicle from the Volkswagen subsidiary is able to change lanes and pass other cars without any human assistance.
We are getting close to the self-driving car."
However, the driver is asked to take the wheel again in urban areas because the spontaneous movements of cyclists, pedestrians and children are too unpredictable. By the end of the decade, the technology from the test car should be available in aseries-production Audi. "We are getting close to the self-driving car," says Professor Dr. Jürgen Leohold, Executive Director of Research at Volkswagen Group.
However, it will be another 10 to 15 years before we reach fully automated driving – which allows the driver to take a nap or read the newspaper. Before then, it will be necessary to ensure that the car can recognize any unexpected incidents. But intelligent vehicles will be a reality soon, Leohold is convinced. "We need them to meet the needs of modern society. They will reduce accidents and traffic jams, and let drivers relax more during the ride." It is not only car manufacturers working on autonomous vehicles; technology companies like Apple and Google that previously had little to do42 with the automotive sector are also forging into this market.
Technology is not the only issue on the mind of Volkswagen's research chief. Finding new business areas is just as exciting, he believes. "We know our way around cars, now we are learning IT," says Leohold. Traffic reports, gasoline prices, parking spot reservations – which services does a driver really need for better mobility? And the competition never sleeps, either. BMW, for example, has developed a route planner especially for its e-cars which includes public transportation and even rental bikes. As soon as the car approaches a major city, the software recommends switching to a bike, commuter train or subway, if it helps the driver get to his or her destination faster.
Even though there are high hopes that digitalization and the continuous exchange of data between vehicles, smart infrastructure, traffic lights and construction sites will offer tremendous opportunities to make driving safer and traffic flow better, high tech alone will not be sufficient to solve the challenges facing cities.
Increasing quality of life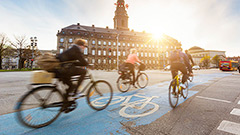 There are more aspects to consider. "For a city to be livable, the pace should be that of a pedestrian or cyclist, not of a car," believes Jan Gehl, PhD. For more than 40 years, Gehl, a Professor Emeritus of Architecture and one of the world's most influential urban planners, has been studying how mobility and architecture in cities relate to quality of life. The fact that his hometown Copenhagen has been named the world's most livable city three times testifies to his success. The movement that has seen pedestrians and cyclists slowly taking over the city was sparked in 1962, when the first inner-city street was closed for car traffic. At the time, shop owners protested out of fear that their sales would collapse, but in fact the businesses have flourished. Over the subsequent years, more and more streets in Copenhagen were pedestrianized with scientific support from Gehl and his research team, sidewalks were widened and a complete citywide network of bike lanes was built. Today all 18 public squares in the inner city are car-free, 45% of Copenhagen residents cycle to work and taxi drivers are required to have a bike rack on their vehicle in order to get a license.
For a city to be livable, the pace should be that of a pedestrian or cyclist, not of a car."
Gehl's ideas have also inspired New York City's planning. In May 2009, Broadway was closed to vehicles around Times Square. Although some believed this would result in a disaster, the flow of traffic actually improved by 7%, according to calculations by the Department of Transportation. Taxi rides were suddenly 17% faster. The city widened sidewalks again and started building an extensive network of bike lanes throughout the city. Within two years, the number of people cycling to work doubled. Since then, Madison Square and 11 other squares have also been made carfree.
This kind of rethinking is taking place in a growing number of cities worldwide. But Copenhagen, the model metropolis, is now grappling with the consequences of its success. These days, cycle lanes are often congested. During rush hour, cyclists sometimes need to wait for a traffic light to change three times before they can cross the street. In the popular pedestrianized shopping areas, residents and shopkeepers face skyrocketing rents. Jan Gehl has a simple answer: "We just need to build more cycle paths and pedestrian zones."