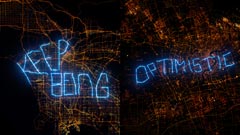 Smart Energy
Two e-cars –
one global message.
A family on two continents, brought together in a 600 kilometer journey. See why we're optimistic about the future of e-mobility.
By 2025, our innovations in electric car battery materials aim to double the driving range of midsize cars from 300 to 600 km on a single charge. Batteries will be halved in size and their lifespans will be extended. Best of all, drivers could expect to get a full charge in as little as 15 minutes – no longer than it takes to enjoy a quick cup of coffee. There could be as many as 5 to 10 million full battery cars being produced by 2025. BASF's battery materials innovations will be in many of these electric cars.
We're driving the future of e-mobility
Where will our battery materials take you?
Through chemistry our scientists are constantly developing and introducing sustainable solutions to address some of the planet's biggest challenges. We believe the continous development of advanced emission control technologies and the increasing demand for electric powered cars will help reduce emissions and increase air quality on a global scale.
Fewer emissions will make our world a better place to live by reducing the impact of air pollution in inner cities and creating a positive effect on the health of the population.
Environmental driven regulations by European, Chinese and other governments around the world, will remain the primary driver for industry growth. We are confident that these regulations combined with our experience in creating unique proprietary solutions for cleaner air, will help address some of the climate change challenges society faces today."
Deep dive into battery materials research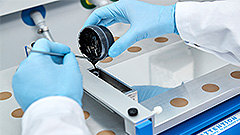 For the production of small test batteries, a lab technician pours the cathode material paste on an aluminum foil. The cast film will then be dried and compacted. Later it will become the cathode, the positive pole of a lithium-ion battery.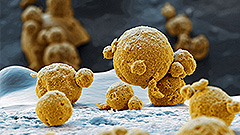 Scanning electron microscope image of a lithium-nickel oxide, a component of cathode materials for high-performance lithium-ion batteries.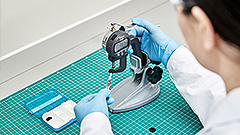 A lab technician measures the thickness of an electrode after compression. The compression of the electrode increases the mechanical stability as well as homogenizes it. It also increases the energy content.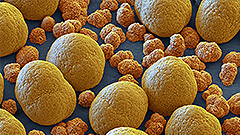 Scanning electron microscope image of a cathode material: The different size of the individual spheres results in a particularly dense packing of the spheres in the cathode. A high packing density results in high energy density – the prerequisite for a longer driving range of electric cars.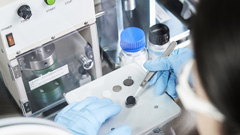 A lab technician assembles a small test battery in a glove box with a dry and oxygen-free atmosphere. In such test batteries, the quality of the cathode materials produced in the laboratory can be examined.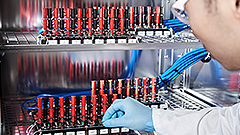 Long-term investigation of small test batteries under well-controlled temperature conditions: these small test batteries already provide very precise data to evaluate the performance over the entire lifespan of the battery in an electric car.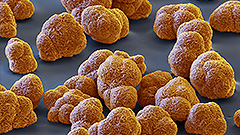 Scanning electron microscope image of a cathode material: The porous surface of the particles plays a decisive role in enabling future fast-charging technologies for electric vehicles.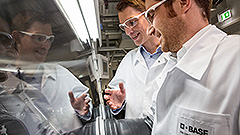 The atomic force microscope, an analytical method for examining surfaces, can be used to investigate aging processes in battery cells that occur during charging and discharging. This information helps our researchers to develop more efficient materials. All analysis takes place in a glove box (left) with a dry and oxygen-free atmosphere.
I'm very proud of our broad network with universities and research institutes. Our partners in science help us to explore new concepts for next-generation battery materials."
The key to our success are our customers and their specific needs. Thanks to our close and trustful collaborations with them, we are able to provide tailormade cathode materials they need to develop improved batteries."
Daily contact with our key customers in Korea and Japan allows us to better understand their needs and develop innovative technologies that will improve the quality of the air we breathe."
At BASF, we focus on the continuous improvement of our productivity and quality. We are proud of our leading process technology solutions and confident in our ability to continue the expansion of our production capacity in the future."
We are innovating to meet the growing demand for more sustainable solutions from society. Through our active portfolio steering we accelerate the development of sustainable battery materials. From my point of view, this supports mobility in a more environmentally favorable way."