Since 2015, BASF has had its own start-up, trinamiX GmbH. Founded by a team of researchers developing solar cells. Driven by the idea of a novel 3D sensing technology.
From discovery to spin-off

Dr. Ingmar Bruder, then a physicist at BASF, was studying organic solar cells in 2010. These cells used organic compounds instead of crystalline silicon. The colorants in these compounds converted sunlight to electrical energy. Some of the photovoltaic cells exhibited unexpected behavior, however: Despite the amount of light being increased, they did not produce the corresponding additional amount of electricity.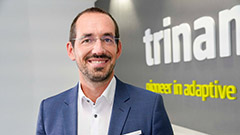 Dr. Ingmar Bruder, Managing Director of trinamiX GmbH.
The effect was absolutely minimal, yet the team wanted to understand the source of this behavior. This is when the team first had the idea of putting this material property to good use: for 3D measurement. The idea was that distances could be "measured" from specific beam profiles.
Bruder could not get this idea out of his head and together with a handful of enthused people he worked on developing a prototype 3D camera: it weighed over 100 kilograms, but it worked perfectly. The first monocular 3D camera based on the new measuring concept was born, enabling 3D vision with only one eye. Prototype 2.0 was created in 2013. An idea had become a product, and the product needed a name.
The XperYenZ™ brand, comprising the x, y and z axis in its name, stands for the diverse range of sensor systems employing the 3D measurement technology, while it is also a play on the word "experience." The BASF pioneers are also proud that a comprehensive patent for the technology was issued in 2015. At almost the exact same time, BASF founded its wholly owned subsidiary with its headquarters in Ludwigshafen.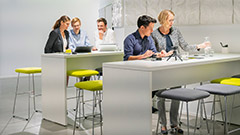 Today, the company has grown to employ more than 60 people: Engineers, electronics experts, IT specialists. All are part of the creative team. Their latest development in the area of distance measurement is a sensor that can measure distances precisely in real time using optical fibers. And further innovation is ready to go, too: A three-dimensional image is captured using an off-the-shelf camera chip and a laser projector. This will enable robots, for example, to see, navigate and pick better in the future. It could also make facial recognition significantly easier.
Get to know the trinamiX Team