BASF's start-up, trinamiX, has developed a miniaturized infrared sensor named Hertzstück™.
Knowledge is a key for making informed and healthy life decisions. But sometimes, visible information is not enough. With Hertzstück™, we are determined to provide a new, empowering knowledge tool which enables all of us to better control the things we eat, the clothes we wear or the medicines we take. By using near-infrared spectroscopy and transforming the spectra into data that everyone can understand, Hertzstück™ makes the invisible visible and broadens our knowledge of the world around us.
Innovation at BASF: Big ideas start off small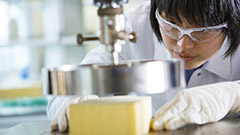 Here at BASF, we want to be faster, more effective and more innovative than our competitors on a permanent basis. Thanks to our 153-year history, we know that our chemical products and systems are the key to success.
Chemovator: Space for business ideas
To find solutions for the important future issues, BASF created a platform to incubate chemistry-related business ideas. Whether it's a new product, digital business model or a complete solution – the Chemovator GmbH, founded 2018 in Mannheim, is ready to move the future of chemistry.
Together with external experts who act as consultants, coaches, mentors or intermediaries, the delicate blossoms of promising business ideas can be nurtured and quickly developed to market maturity in an innovative start-up-like environment.
All our innovations are developed by our excellent scientists in research and development, all of whom are full of creative potential and energy and who drive research forward with their wealth of knowledge and passion. We are optimistic about the future and provide an open culture where everyone has freedom and responsibility in their work.
With its focus on inventiveness and enthusiasm for research, our innovation approach enables creative and enthusiastic researchers to explore new horizons, so all good ideas have a chance to be developed further at BASF, even if they are outside the current key areas.
BASF uses the start-up culture as a driver for innovation and promotes a culture of innovation which motivates the employees to think outside of the box and work on business ideas which have yet to be validated by the market or by consumers.
Find out more
By 2050, approximately 10 billion people will live on earth. To feed them all, we need considerably more food than we currently have (UNSCN 2010, WHO). To face this challenge, one of the most important tasks of our time is to produce high-quality food which not only guarantees the health and well-being of the consumers, but also saves resources.